Liverpool star Philippe Coutinho has been linked with a move away from Anfield, with reports claiming that the Brazilian is all set to join the French champions Paris Saint-Germain this summer.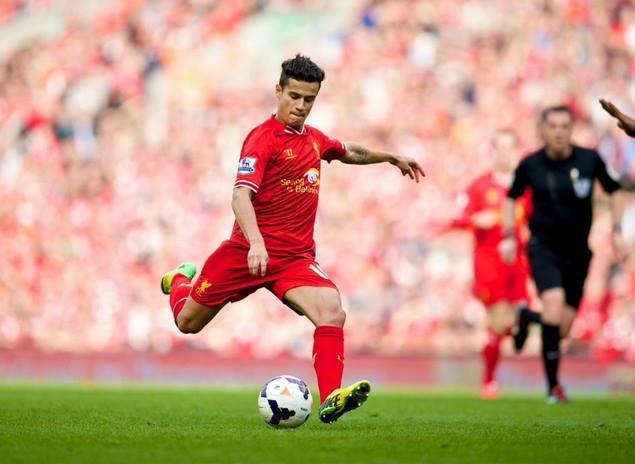 According to Le 10 Sport, the Ligue 1 outfit are pondering a £45m bid for the 23-year-old midfielder. Furthermore, the Daily Express suggests that the Parisians have made contact with his representatives in order to lure the playmaker to French capital.
The South American star, who scored 8 goals in 26 league appearances for Liverpool this season – has been one of the Red's stand-out performers since joining the Premier League club in 2013.
PSG have made contact with Philippe Coutinho's representatives over signing him this summer. #lfc (Paul Joyce)

— Anfield HQ (@AnfieldHQ) June 2, 2016
However, now his performances have attracted numerous attention from the continent, with PSG are the first to sign the playmaker.
Here's how Twitter reacts to the rumours..
There is no good spin on Liverpool selling Coutinho. We never replace our top players well and consistently selling them makes us look weak.

— Joseph Musker (@Musker_LFC) June 2, 2016
If we sell Coutinho I'll get in a microwave with a fork in my mouth

— Dan (@Lazallana) June 2, 2016
If we sell Coutinho I'm not watching football anymore and I'm deactivating.

— – (@AnfieldRd96) June 2, 2016
If Coutinho leaves Liverpool I'll be the saddest guy alive #LFC

— John Shannon (@therealjayare5) June 2, 2016
PSG looking Coutinho? Only on 2 conditions:
1.We sign Gotze or similar quality
2.Lucas or Marquinos swap + cash

— Kloppo (@Cout10inho) June 2, 2016
We should sell Coutinho to PSG but have a loan back clause for the two months of the season he bothers playing well.

— Funky_Gibbons (@james_gibby) June 2, 2016
I we sell Cou, damm i would lose it, he means so much for the club.. Please dont leave us @Phil_Coutinho

— iTweetRED (@KapperHD) June 2, 2016
I'd sell Coutinho for Lucas Moura + £30 mil, but only if he wanted to leave #LFC

— remeci (@remecilfc) June 2, 2016
Coutinho will either want to push the train or ride it.. ????

— Chris Williams (@Chris78Williams) June 2, 2016
No. Not @Phil_Coutinho. Please no ????????

— Gentrit Gashi (@GashiGentrit) June 2, 2016